2022 back-to-school agenda : Events to not be missed on the French Riviera !
Orlane M

| Lifestyle |
Publié le mercredi 7 Septembre à 18h24
2022 back-to-school agenda : Events to not be missed on the French Riviera ! The summer season is ending but many upcoming events continue to make the news in the region.
Discover our selection of the cities of Cannes, Mougins, Biot, Saint-Tropez, etc.
 1- September 6-11 : Cannes Yachting Festival
– 

ENDED
It's boating month in Cannes and it starts with the Yachting Festival, which is none other than the largest open-air yacht show in Europe and the number 1 in the world for the largest sailing ships.
The Yachting Festival is an exceptional show in the heart of the French Riviera, qualified as the most eclectic in the world. Each year, it welcomes nearly 650 boats, from 5 to 45 meters afloat and less than 10 meters on land. These boats are sail or motor, monohull or multihull, hard or semi-rigid hull.
You will have the opportunity to meet the biggest names in the nautical industry and their latest innovations in unparalleled visiting conditions.
Event open to all from €19/day.
Location : The fair is held in two different locations. The old port of Cannes, Albert Edouard Pier and Port Canto, Boulevard de la Croisette, 06400 Cannes
2- September 17 and 18 : Les Étoiles de Mougins
– 

ENDED
Food and wine lovers, this event is for you !Les Etoiles de Mougins is the International Gastronomy Festival born in 2006 in homage to Roger Vergé, the emblematic 5-star Chef of the Moulin de Mougins, creator of Cuisine du Soleil.
This year, on September 17 and 18, the greatest chefs in the world meet in the village of Mougins to share their passion. Thus all lovers of cooking and more generally of the art of living will be able to discover their secrets, tips and divine recipes. All around local products.
2000 m2 of kitchen installed in the different spaces, more than 1000 courses given, more than 100 demonstrations, conferences, exhibitors, a market for small producers…
Editor's favorite for Les Étoiles, one of the 2022 events on the French Riviera not to be missed!
Event open to all, from €5 to €15/workshop.
Location : Quai Max Leboeuf, 06400, Cannes
3-From September 18 to 24 : Les Régates Royales de Cannes
After the Yachting Festival will be held the Régates Royales de Cannes. This is the 44th edition of this exceptional yacht race in the bay.
What is "Les Régates Royales" ? A week of regatta off the Lérins Islands for a fleet divided into eight categories according to the size, age and rigging of the sailboats. An exceptional gathering since the biggest and most famous yachts of the last century and before come to do battle. Chills guaranteed!
In order to be closer to the show, two options are available to you: a boat trip or lunch on the beach.
In addition to the impressive spectacle you will have the chance to attend, don't miss the "Village des Régates Royales". You can admire these legendary boats and visit the exhibitors in the village. In the evening, enthusiasts gather there to chat, eat, drink and even dance on certain evenings. The atmosphere there is great!
Event open to all and free.
Location : Quai Max Leboeuf, 06400, Cannes
4- September 17 and 18 : Cannes Heritage Days
– 

ENDED
Heritage Days will take place this year on Saturday 17 and Sunday 18 September, on the theme of sustainable heritage. For the occasion, you will have the opportunity to discover many buildings and other places which are often only exceptionally open to the public, or museums whose access then becomes exceptionally free or at a reduced price.
Climb aboard an urban bus from the 1980 Cannes network for a heritage tour with several possible stops: Malmaison, Port Canto, Bellini Chapel, Institut Sainte-Marie, Villa Rothschild, International College and Villa Romée, etc.
Detailed program of visits and events, monuments, museums, and remarkable places, timetables, access map and conditions available on the city's website.
Event open to all and free (except for the Abbey of Lérins for which you will have to cross by boat).
Location : Bus station, Hôtel de Ville stop, 06400, Cannes
5- From September 23 to 25 : Biot International Glass Festival
The town of Biot has been labeled "Villes et Métiers d'Art" for glass since 1997. A major center for glass creation on the Côte d'Azur, Biot both celebrates this craft during a festival organized over two days. An edition in which this art will be all the more honored since the UN has designated this year as the "year of glass".
Come live a unique experience and discover the creations of French and international master glassmakers. On the program: exhibitions, art market, outdoor glass blowing, entertainment for the general public, visits to workshops, demonstrations and performances.
Event open to all and free.
Location : Biot Village, 06410, Biot
6- From October 17 to 20 : MIPCOM and MIPJunior in Cannes
MIPCOM is the most anticipated market of the year for the world of audiovisual content and for the key players in distribution on all platforms.
Each fall, companies, buyers and digital platforms from more than 110 countries as well as top television and film executives converge at MIPCOM in Cannes to create a new world of content.
Around 12,000 professionals from the television and entertainment industry meet there every October to buy and sell shows internationally; but also, and increasingly, to negotiate with new platforms (internet, VAD, mobile, social networks). These new players are increasingly present at the event, as well as at MIPTV, the sister event of MIPCOM, which takes place in April.
It is preceded by MIPJunior, a viewing event and conferences around television content for children.
Event open to the public under certain conditions, paying.
Location : Palais des Festivals et des Congrès, 1 bvd de la Croisette, 06400, Cannes
7- October 21 : The concert of Amadou and Mariam in Mougins
Amadou and Mariam, emblematic figures of the African and international musical landscape will do us the honor of coming to the Coast and more precisely to Mougins. The concert event will be held on Friday October 21 from 9:00 p.m. to 11:00 p.m. at stage 55.
African music, pop, Latin sounds, electric guitars, percussion or even electro beats… It's hard to classify the famous duo in a category. One thing is certain, their energy is incredible and their music encourages you to travel.
They played with renowned musicians (Manu Chao, Keziah Jones, M, Riken Jah…) in front of thousands of people such as during the Coachella Festival or in South Africa on the occasion of the opening of the Coupe du Soccer World.
Event open to all, from €8 to €25.
Location : 55 chemin de Faissole, 06250,  Mougins
8- From October 28 to 30 : The great sale of Saint-Tropez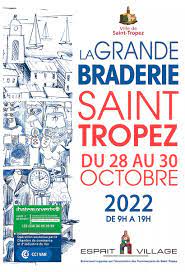 The large Saint-Tropez market sale attracts thousands of visitors every year. It is eagerly awaited because it is an opportunity to do very good business.
Fashion, decoration, accessories, there is something for everyone on every street corner. Difficult not to crack but you will leave satisfied!
Event open to all and free..
Location : Village de Saint-Tropez, 83990,  Saint-Tropez
We hope that this article "2022 back-to-school agenda : Events to not to be missed on the French Riviera !" you were pleased !
In the same style, also find our article "Top 4 of the most beautiful villages of the French Riviera" just HERE.