10 decoration trends straight from Bali !
Orlane M

| Home |
Published on monday March 14, 2022 at 5:29 pm
"10 decoration trends straight from Bali": Travel is a great source of decoration inspiration and if there is a destination where you can fill up on ideas, it is on the sublime island of Bali.
Luxurious properties, hotels, restaurants, beach clubs, concept stores, the island is full of subtly decorated places.
span style="font-weight: 400;">The Balinese style is characterized by raw wood furniture, natural materials, wicker suspensions, neutral colors. In addition, this style will be easy to integrate into your current decoration with just a few tricks.
Do you want to live in a holiday setting all year round?
While waiting to be able to go to the "island of the gods" one day, we decipher you in this article "10 decoration trends straight from Bali !" how to bring a Balinese touch to your interior and where to shop our favorite pieces. Simply click on the images of the items you are interested in to access the product page.
1- Light tones and touches of color
Light tones (white, off-white, beige) bring softness and lightness to a room and allow you to add color by touches to your furniture, decoration, etc. To your clear walls, add clear curtains as well, they both filter the light and protect from vis-à-vis. Moreover, these timeless and natural colors promise Olympian calm, unparalleled softness and a deep sense of serenity. They also allow you to completely and very easily change the appearance of your interior whenever you want.
When it comes to adding pops of color, earthy and clay colors work best. Terracotta, Terre d'Argile or even sand beige, these shades, combined with wooden or rattan decorative objects, will bring a raw look to your interior. Also, green goes very well with light tones, recalls the vegetal aspect very present in Bali and brings vitality to a room.
2- Le bambou
Bamboo is THE material that reflects par excellence the exotic and authentic side specific to Bali and more generally to the countries of South East Asia and is clearly part of the decoration trends specific to Bali. It will bring a woody and zen side to your interior so you never get tired of it. In addition, bamboo is a material that is easily available and is not the most expensive. Delicate in appearance it is not for all that not robust. Furniture, lighting, decorative objects, etc., bamboo is widely used in the manufacture of interior and exterior objects for your home, from the living room to the terrace through the bathroom (this material is not afraid of not humidity).
In addition, bamboo is one of the inexhaustible resources and therefore proves to be an excellent alternative to wood, making it possible to limit deforestation.

1) Bamboo and rattan stool
Madame Stoltz via Maisons du Monde
125,90€ BUY
2) Natural bamboo towel rack
Tikamoon via La Redoute
29,00€ BUY
3- Suspensions in natural materials
In rattan, wicker, bamboo, jute, straw or cotton, suspensions in natural materials are clearly the stars of the decor of the moment. They attract the eye when entering a room without cluttering it too much because of their natural appearance. They are adopted in all the rooms of the house, alone or in accumulation, there are all styles, for all tastes!
In short, these lights invite themselves into your decor and create friendly and soothing atmospheres, by diffusing a warm light. A word of advice: preferably match the color of your bulb with your light to accentuate the natural side.

1) Natural water hyacinth suspension
Madame Stoltz via Maisons du Monde
29,00€ BUY
2) Rattan pendant lamp
Madame Stoltz via Maisons du Monde
75,00€ BUY
3) Natural suspension
Nest Nature via Impression Lin
95,00€ BUY
4- Raw wood furniture 
Natural materials are definitely there. Ash, walnut, mahogany… Indeed, raw wood is one of the key elements of Balinese decoration, warm and cozy, it goes perfectly with light tones. Raw wood is wood that is not treated after being sawn. Its appearance is natural, revealing all the roughness, faults or even the grain of the wood, whatever it may be. Outdoor sofas, cozy armchairs, headboards, this material warms rooms, gives them a green touch but above all a good dose of elegance!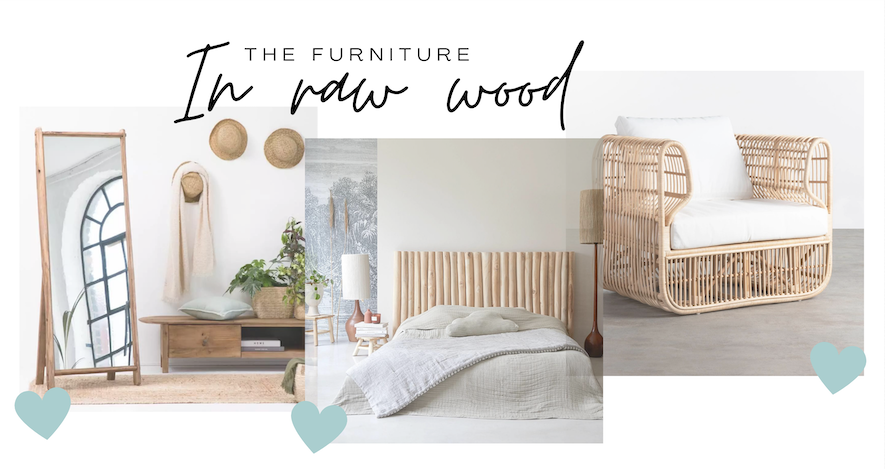 1) Recycled wood mirror
Blaise via Mades in Meubles
199,00€ BUY
2) Solid teak headboard
River via Tikamoon
329,00€ BUY
3) Armchair with armrests in natural rattan
The Masie
579,95€ BUY
5- Seashells
A bit of originality and character in your interior? Add shells to your decoration, guaranteed effect! Pretty ceremonial necklace, vase, shell cushion, we find them absolutely everywhere nowadays. A truly unique decorative object to mix with wooden decorative elements.
Personally we are completely fan of the typical Balinese ceremonial necklace to hang on the stand to put on a piece of furniture. If you cannot buy it directly on the island of the gods for the modest sum of around 7 euros, you will find it in many decoration stores such as: Maisons du Monde, Alinéa, La Redoute or Le Leroy Merlin.
Also and at a lower cost, pick up some shells during your next walk on the beach, you will find dozens of decorative ideas to do with shells on the net. Let's DIY (Do It Yourself)!
6- Linen bedside
Both timeless and current, linen has many advantages. It distills a chic and bohemian spirit, we say that linen "crumples with nobility". A true decorative ally, linen allows you to breathe romance and serenity into your interior.
In addition, linen bedding is better than other fibers (cotton, viscose, silk, polyester…) when it comes to thermoregulation. That is to say, it keeps you warm in winter and cool in summer. It has better ventilation and regulation.
This material is on the rise and you will absolutely find it in all stores offering bed linen.
7- Vegetal decor
No need for an exterior to afford a corner of greenery at home, green power is all the rage! Plants occupy a primordial place in the Balinese style, they are even found in the bathroom. Plants in pots arranged on the floor, on shelves or suspended from the ceiling will immediately give your interior color and life!
Also, indoor plants help purify the air. According to Feng Shui, they are synonymous with life, growth and abundance.
8- The hanging chairs 
This is the charm asset of a room. Villas, restaurants, beach club, we see him everywhere in the trendy places of Bali! Succumb to a hanging chair, one seater or two seater, it's up to you!
Appreciated for its very relaxing pendulum movement, the hanging chair brings back memories of childhood on a swing. This garden furniture, halfway between a hammock and a chair, invites you to relax both on the terrace and indoors.

1) Rattan hanging chair
LieblingeundCo via Etsy
349,00€ BUY
2) Woven resin hanging chair
Loving via Maisons du Monde
339,OO€ BUY
3) Cotton rope hanging chair
CNO via SoSiege
84,90€ BUY

9- Woven baskets
Woven baskets, baskets with pearls, baskets with patterns, of different sizes… and always in natural materials. It's the decorative element that's easy to find and has its full effect! In addition, they are also a good economical and aesthetic storage solution.
Made of natural fibers, they go with all styles and will fit into all rooms and will warm them with their authenticity.
As a simple decorative object, in the bathroom to store your toiletries or at the foot of the sofa to put your newspapers in, these baskets have many uses. They will also make very pretty pot covers for your plants.
The models are numerous, you will find round, oval or square, striped, embroidered, pompom baskets in all decoration stores and at all prices.
10- Batik Fabric
Batik, which means "wax writing", is an ancient craft technique of polychrome printing that is found mainly in the regions of West Africa, the Middle East and Asia.
Passed down from generation to generation in Indonesian families, batik represents the cultural identity of its people. It is very popular in Indonesia for its refinement and artistic side.
Batik is found in several forms of patterns and fabrics. Cotton and silk are the most commonly used materials. Cotton allows better control of the patterns thanks to its density while silk, although much more delicate, allows you to create more vibrant colors.
 It is possible to use batik for clothing, decoration as well as for various accessories.
If you want to source Batik fabrics in France, we recommend THIS WEBSITE, the fabrics are made by an Indonesian couple, according to the rules of the art.
Hoping that this article "10 decoration trends straight from Bali" will give you ideas for your interiors!
Find our most beautiful properties for sale HERE.